Risk Based Vulnerability Management
Strobes RBVM simplifies vulnerability management with its all-in-one platform, streamlining the process of identifying, prioritizing, and mitigating vulnerability risks across various attack vectors. Through seamless automation, integration, and comprehensive reporting, organizations can proactively enhance their cybersecurity posture.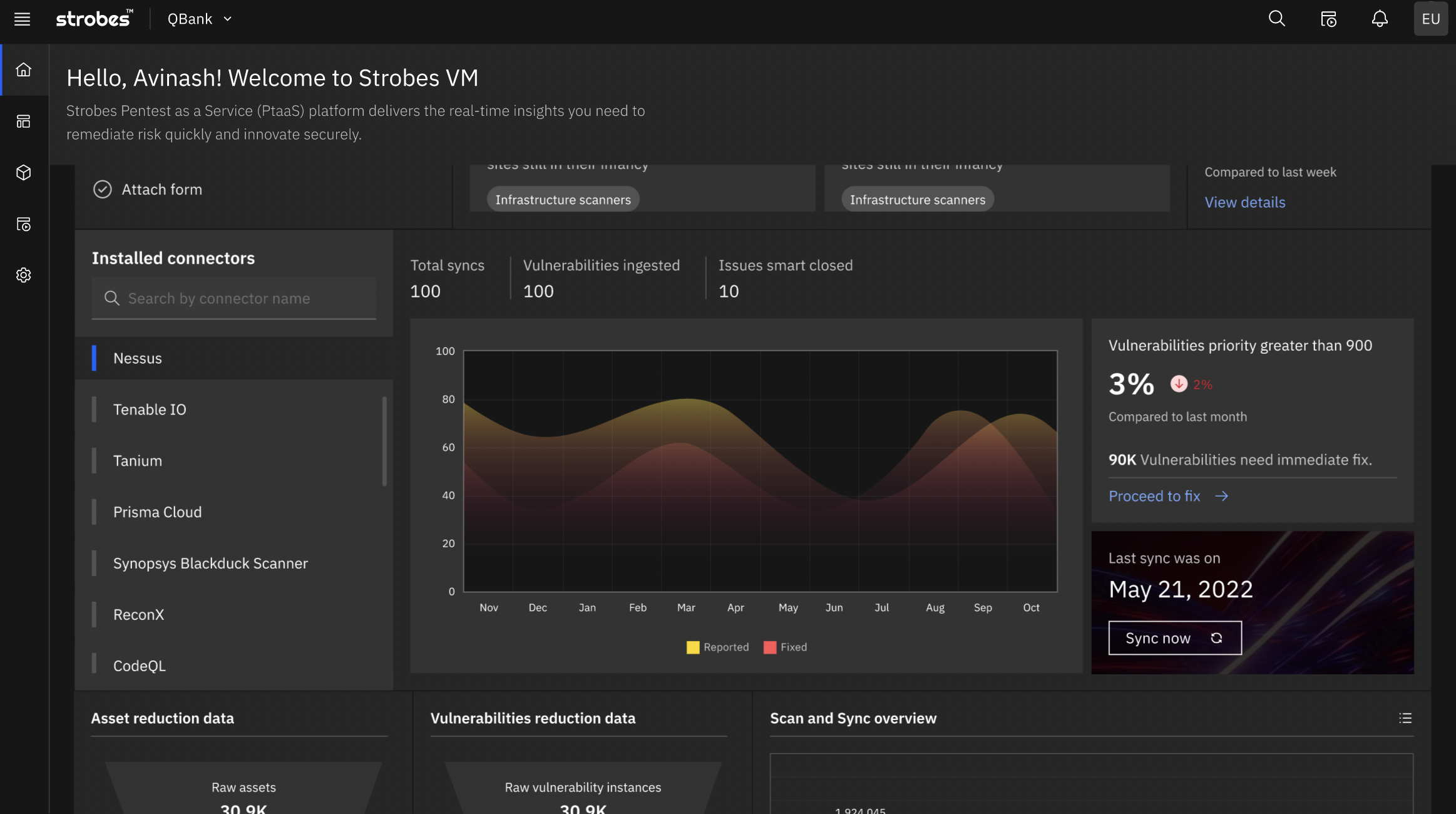 Over 300+ customers trust us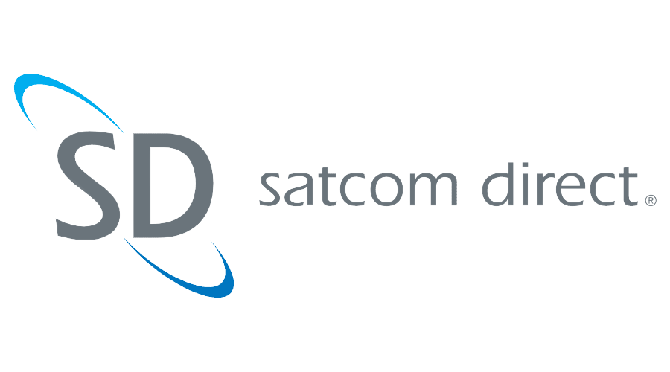 Going beyond a vulnerability scanner
Strobes Risk Based Vulnerability Management software goes beyond the capabilities of a standalone vulnerability scanner by aggregating from multiple sources, correlating with threat intel data and prioritising issues automatically.
End-to-End Lifecycle Management
VM software encompasses the complete vulnerability management process, from initial discovery to remediation, tracking, and reporting.
Threat Intelligence
RBVM software offers risk-scoring mechanisms that consider various factors beyond just the severity of vulnerabilities, such as exploitability and potential impact.
Workflow Automation
RBVM software automates many aspects of vulnerability management: scanning, ticketing, notification, and even patching. This reduces manual effort, accelerates response times.
Integrations
RBVM software integrates with various security tools and IT systems, allowing for seamless data sharing and improved collaboration between different teams involved in the vulnerability management process.
Remediation tracking
While vulnerability scanners primarily identify vulnerabilities, RBVM software tracks the status of each vulnerability's remediation efforts ensuring accountability and providing insights into the progress of fixing vulnerabilities.
Adaptation to New Threats
RBVM software can incorporate threat intelligence and provide recommendations based on emerging threats, ensuring that vulnerabilities associated with the latest attack vectors are quickly addressed.
Aggregate, Enrich & Prioritize
Multi-Source Vulnerability Consolidation
We understand that every organization invests in security differently, with unique environments, ecosystems, and requirements. To cater to these diverse needs, we provide over 100+ connectors that cover your entire security stack. From Vulnerability Scanners (SAST, DAST, Network) to Internal Security Teams, External Security Vendors, Bug Bounty Programs, and more.
Secure Your Entire Asset Ecosystem
While daily, weekly, and monthly scans are crucial, the risks posed by third-party vendors, subsidiaries, and external entities should not be overlooked. Strobes Risk Based Vulnerability management enables you to uncover the entire threat landscape and discover vulnerabilities across your entire ecosystem. Onboard business units, assets, and vulnerability report to correlate and secure all elements of your organization.
Prioritize Right Vulnerabilities
Deduplicate, Predict & Prioritize what matters most!
All assets don't hold equal importance for your organization or potential attackers. Bid adieu to alert weariness and shift your focus to the top 3% of the crucial assets in your attack landscape. With an accuracy of greater than 90%, Strobes has expedited the vulnerability management process and made it 5x faster for our clients.
High Risk Vulnerabilities
Use our five pre-configured dashboards or create custom dashboards for your needs
Our Vulnerability Management software offers advanced reporting capabilities that empower organizations to gain deeper insights into their security posture. With our comprehensive reporting tools, users can effortlessly generate customized reports that provide a granular view of vulnerabilities, their severity, and potential impact. These reports not only aid in prioritizing remediation efforts but also offer historical data trends for proactive risk mitigation.
Request a Sample Report
Strobes has 100+ Integrations
Strobes offers seamless integration with a wide range of your favorite tools, whether it's your code repository, automation tools, SAST, DAST, cloud and infrastructure scanners, or ticketing and messaging platforms. Our comprehensive integrations ensure that Strobes can adapt and thrive within your specific environment, providing tailored support for your unique needs.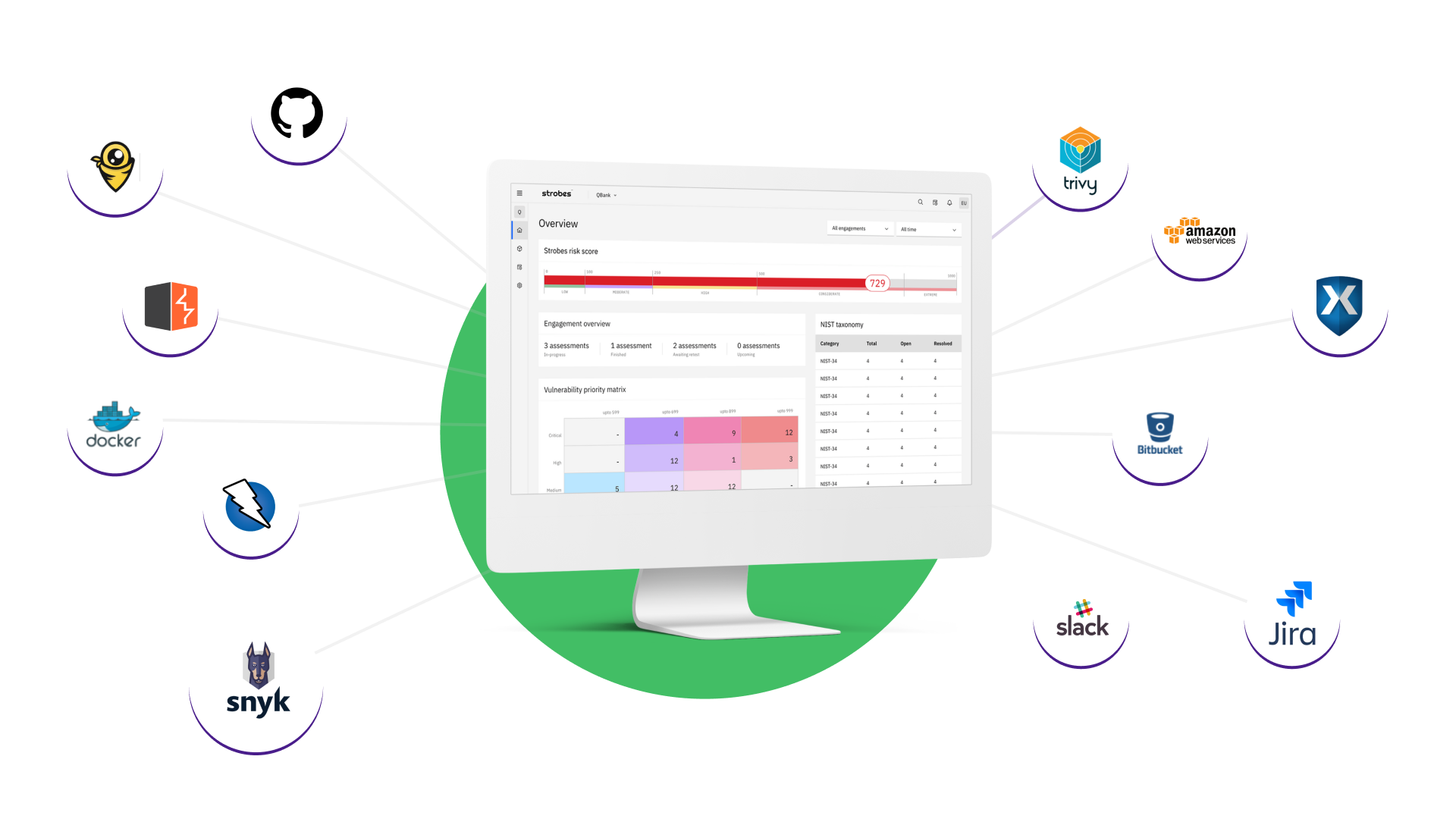 Schedule Your Vulnerability Management Demo Today!